MUKESH PATEL SCHOOL OF TECHNOLOGY MANAGEMENT & ENGINEERING - MUMBAI
Mukesh Patel School of Technology Management and Engineering was established in the year 2006 under the aegis of Narsee Monjee Institute of Management Studies as one of its constituent Schools. NMIMS was established in the Year 1981 by Sri Vile Parle Kevlani Mandal as a Management institute initially affiliated to University of Mumbai. NMIMS created a niche for itself as a Management School benchmarked for its best practices in Management education in the coming years. It became a deemed to be university (a nomenclature used for institutions granted University status by UGC) in the year 2003.
MPSTME, a top engineering college in Mumbai was essentially established to serve the need of creating an innovative and integrated space for technology education interspersed with sound management practices that converged with changing industry as well as societal needs. The vision was to match the emerging demands in the field by creating holistically trained engineers possessing sound technical expertise as well as a vision to integrate their knowledge into creating technology that serves the changing needs of present world. MPSTME building today, with its new age engineering course in Mumbai, state-of-the-art labs and world class infrastructure stands a live testimony to the steady realization of this vision.
MPSTME ranked 2nd in All India Emerging Private Engineering Colleges in the year 2021 in "The WEEK Rankings"

"MPSTME's B.Tech. programs receive prestigious ABET Accreditation, USA-"The Global Gold Standard for Quality Assurance in Technical Education"

"Education Leadership Award by ET Now Business Leader of the Year 2020"

"Ranked 2nd Best Emerging College of this century and Ranked 4th best Private Engineering College in Western Region by India Today Group-MDRA Survey, 2020"

"Best Institute with Academic and Industry Interface Awarded at World HRD Congress 2019."

"NAAC NMIMS deemed-to be University Accredited by NAAC with 3.59 CGPA and Grade A+ in the 3rd cycle (Mumbai Campus)"

Previous
Next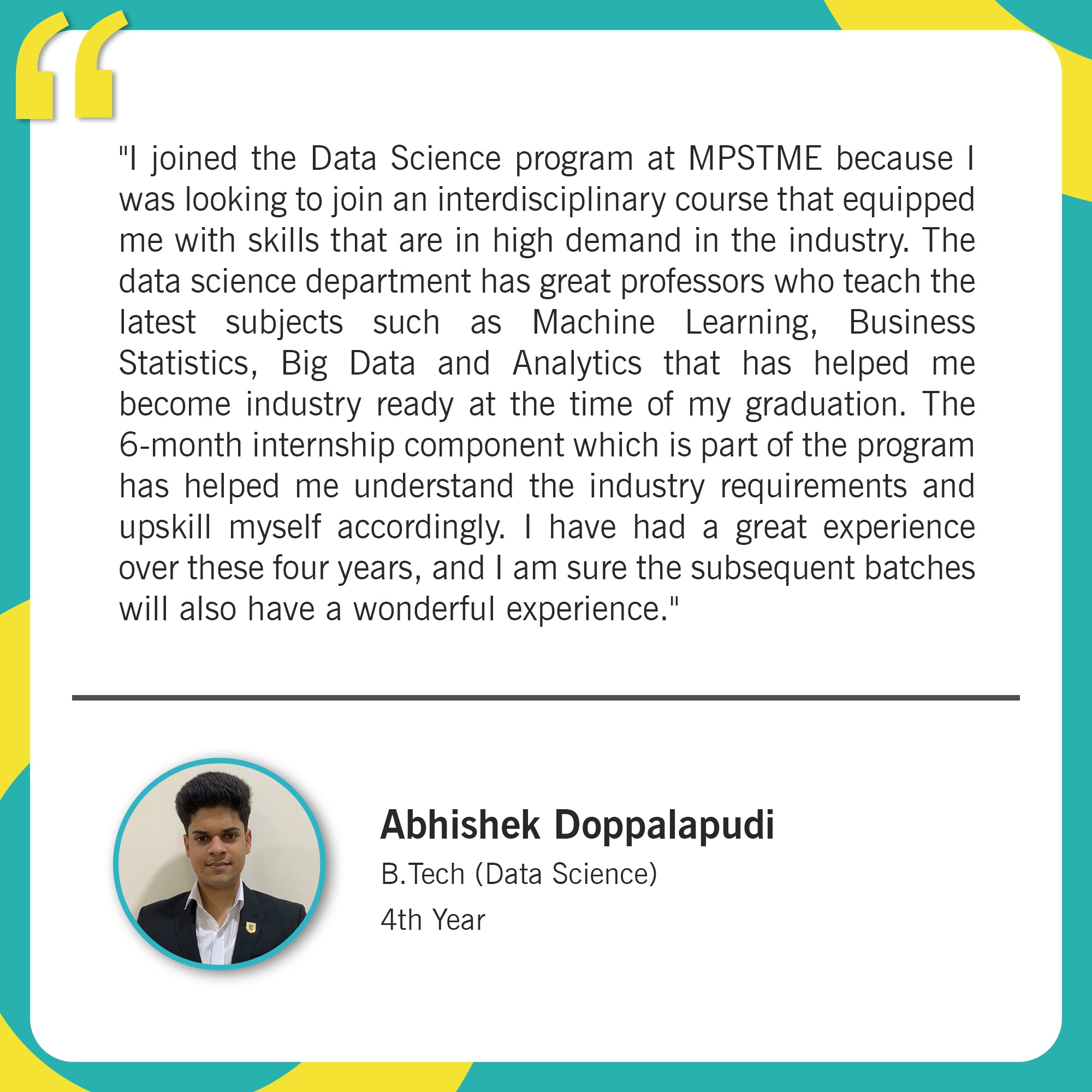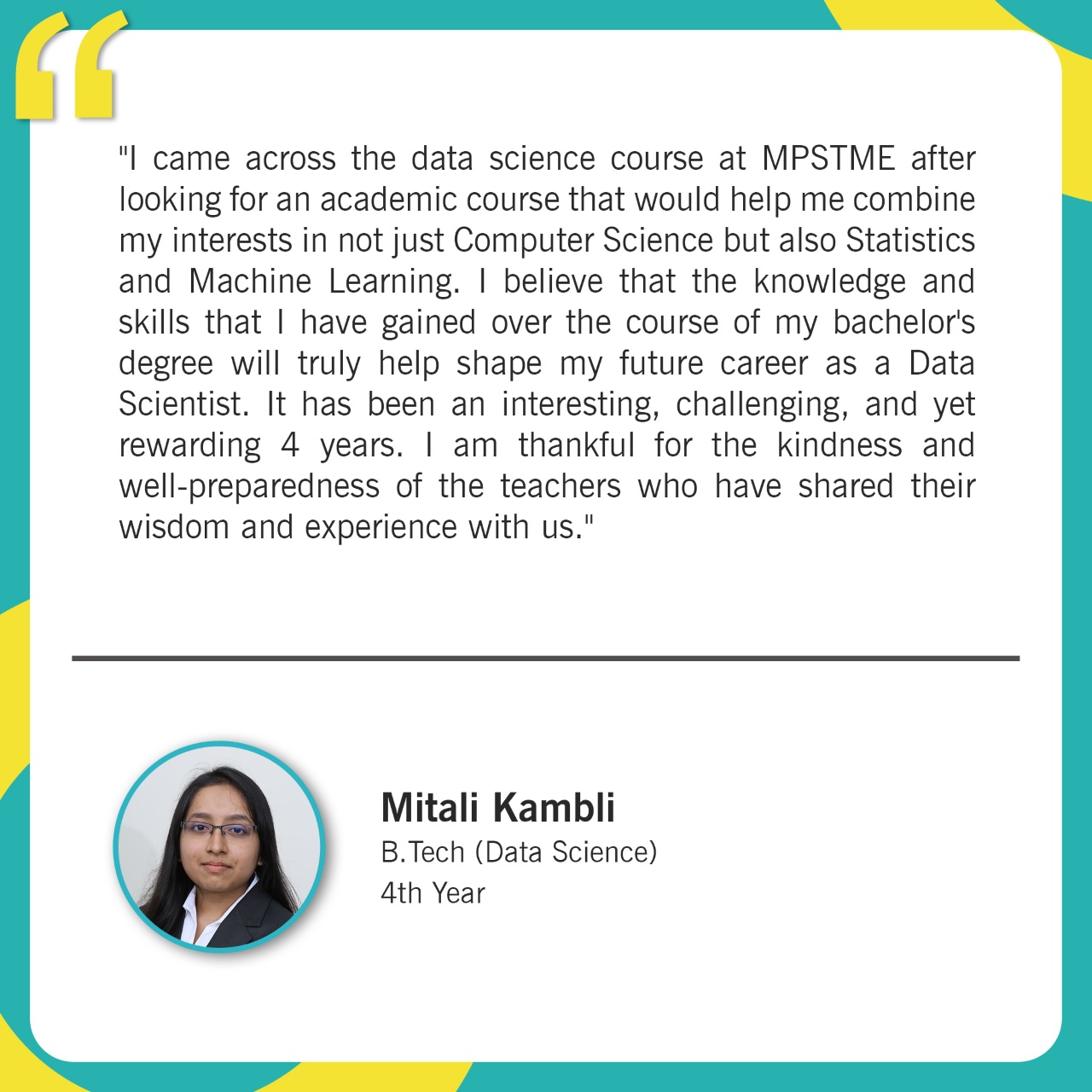 MPSTME Achievements
Ms. Shriya Rane, a fourth-year B Tech Mechanical Engineering student awarded a prestigious scholarship from Faurecia Sustainable Mobility Solutions.
MBA Tech student Shiwansh Raj selected for the prestigious list of the 6th Edition of ET Campus Stars Class 2022-23.
B Tech Mechatronics Engineering students awarded ISA Education Foundation's Scholarship, USA.
MBA Tech students, Dhrumil Vadodaria, Sahil Shaikh, Mahak Porwal, and Mohammad Zaki Aftab, for finishing as the second runner-up in the Siemens Tech for Sustainability Challenge organised in Germany.
B. Tech. CSEDS student, Ms. Samyukta Mandampully, on representing on the global stage by winning the resolution project at Harvard WorldMUN in Paris and receiving $4000 in funding.
MBA Tech Student- Ketan Jain's awarded by the Indian Achievers' Forum as a 'Promising Start-up' for 2022-23.
Diya Karia (B. Tech. - AI) awarded the Best Student Leader Female (2022-23) by ISA Maharashtra at the PPPA event held at the CIDCO Convention Center, Navi Mumbai.
B. Team Abstract- Viraj Sanap and Divya Sharma (MBA Tech Computer Engineering) won the Jury's Choice Award in the B-School Track to "Innovate for Society."
Reet Dengle, represented in the SF Idol solo singing competition at one of the largest college fests in Asia, the 64th Spring Fest of IIT Kharagpur.
Adnan Amir (BTech Mechatronics Engineering) awarded ISA Education Foundation's Scholarship, USA
Tanishq Chamboowala and Akul Mangal (BTech Computer Engineering) placed in Oracle Financial Software Services with an annual package of 12 Lacs.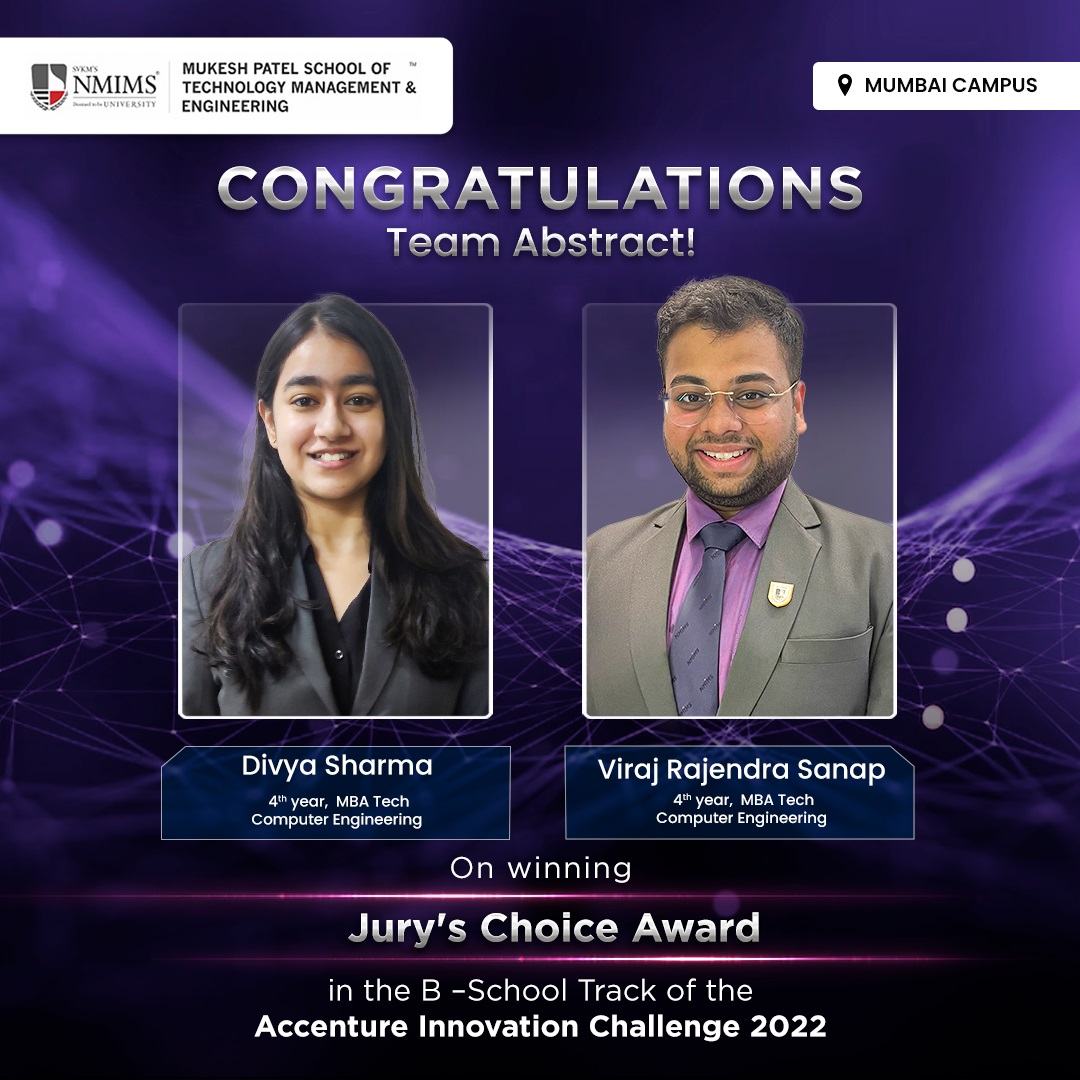 Viraj Sanap and Divya Sharma from MBA Tech, Computer Engineering won the Jury's Choice Award in the B-School Track to "Innovate for Society by Accenture.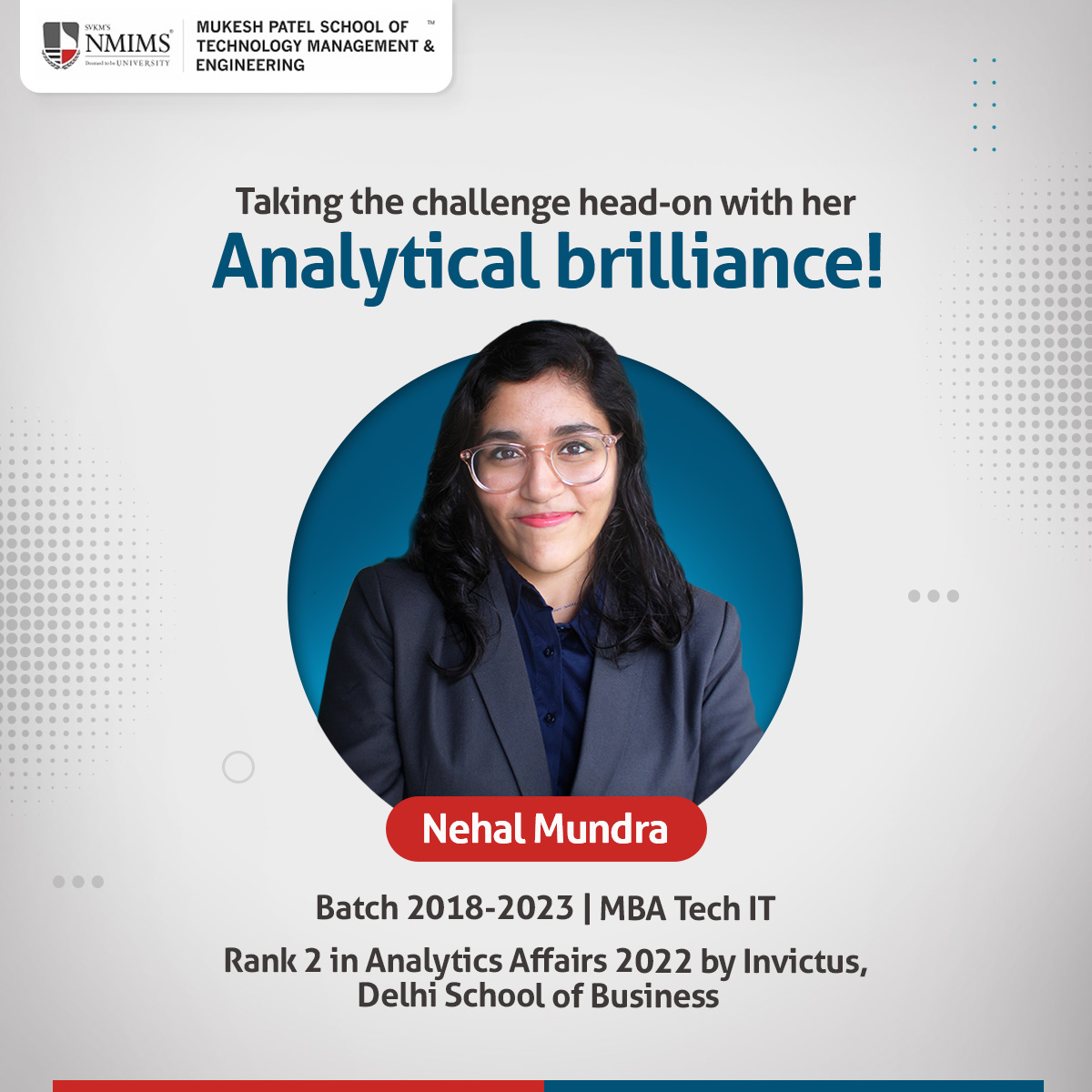 Tag line would be : MBA Tech IT Student- Ms. Nehal Mundra secured second rank in "Analytics Affair 2022" organized by Invictus, Delhi School of Business.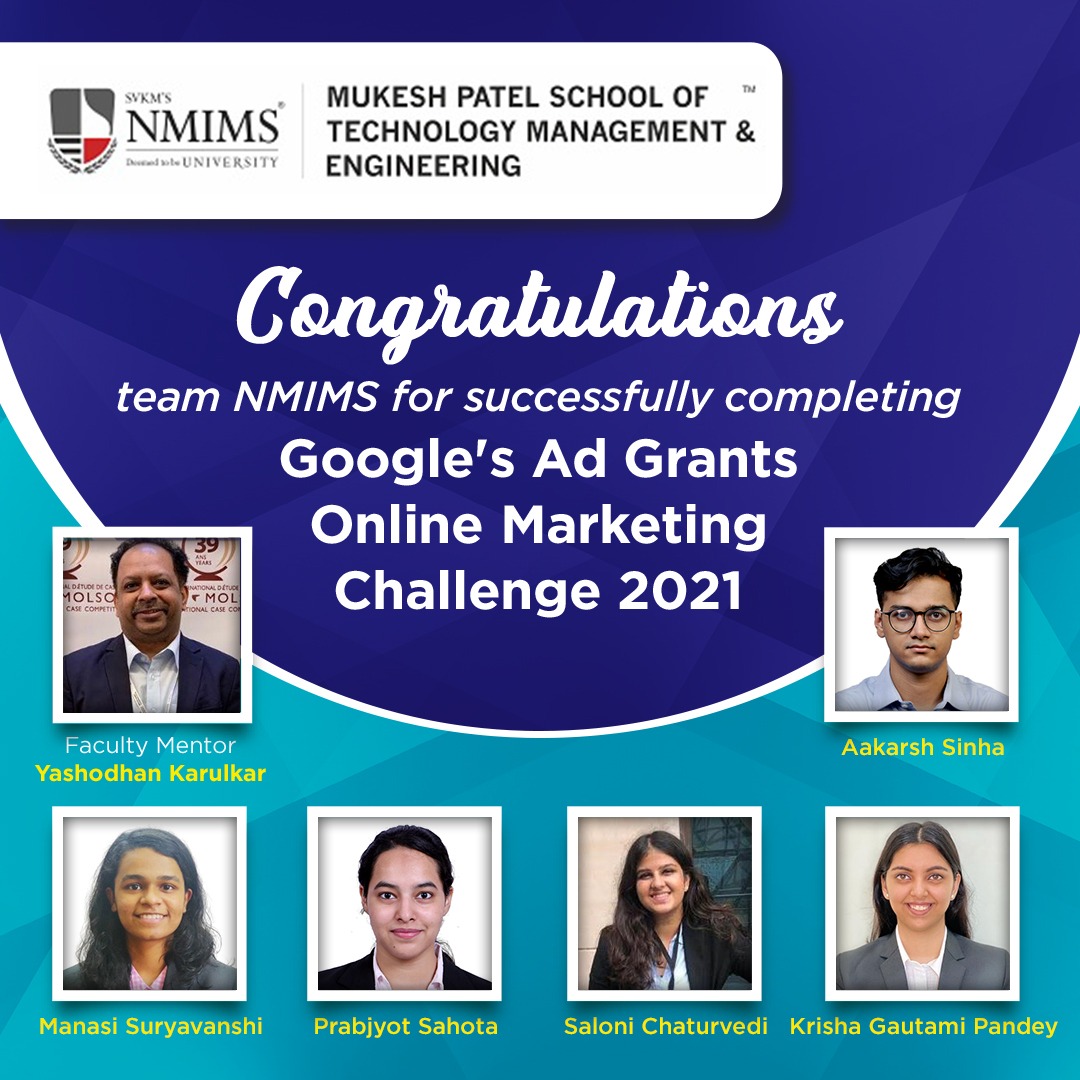 Aakarsh Sinha, Manasi Suryavanshi, Prabjyot Sahota, Saloni Chaturvedi, Krisha ...(Read More)
Pandey under the guidance of Prof. Yashodhan Succesfully completed Google's Ad Grants Online Marketing Challenge 2021.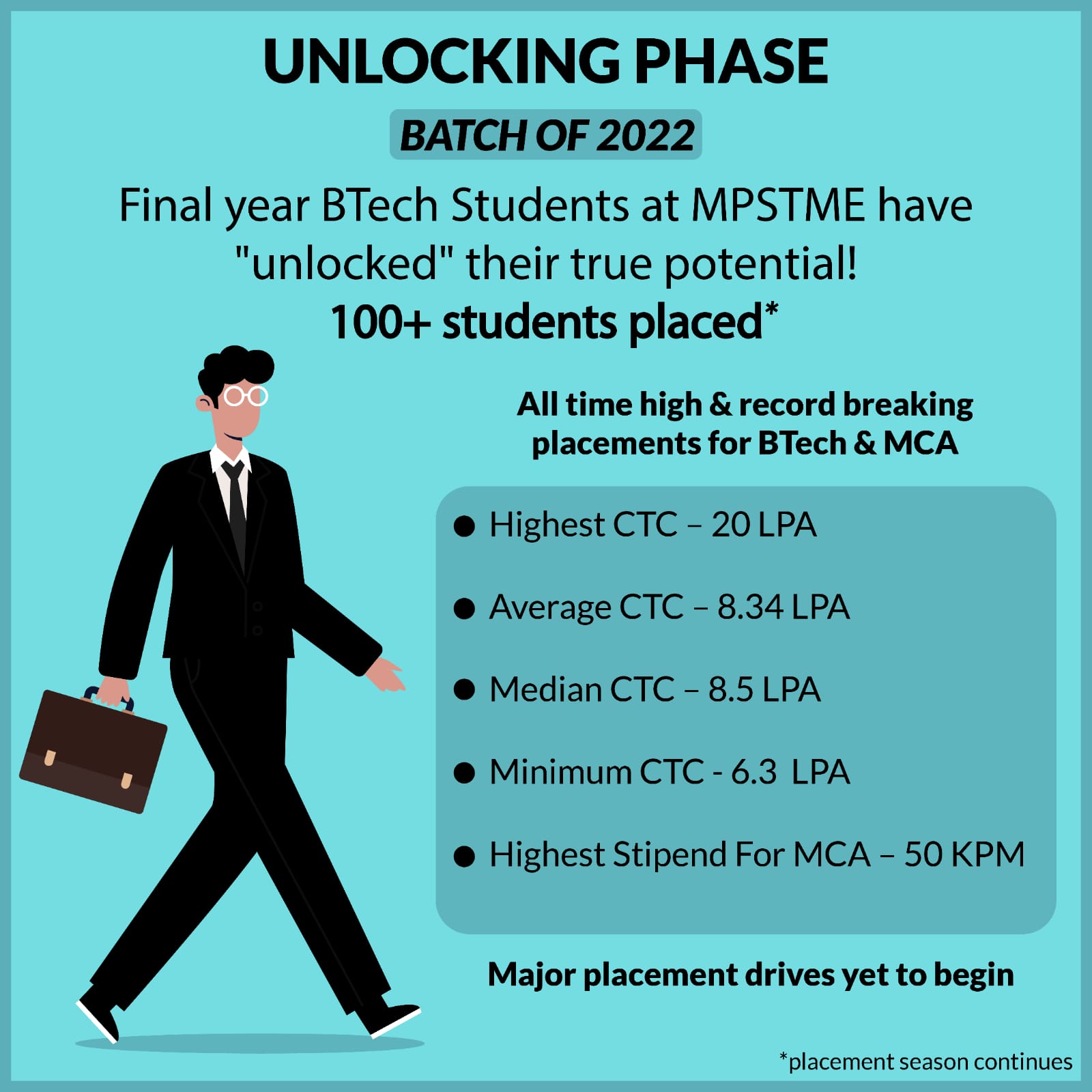 Record breaking placement of B.Tech and MCA Students (Batch of 2022)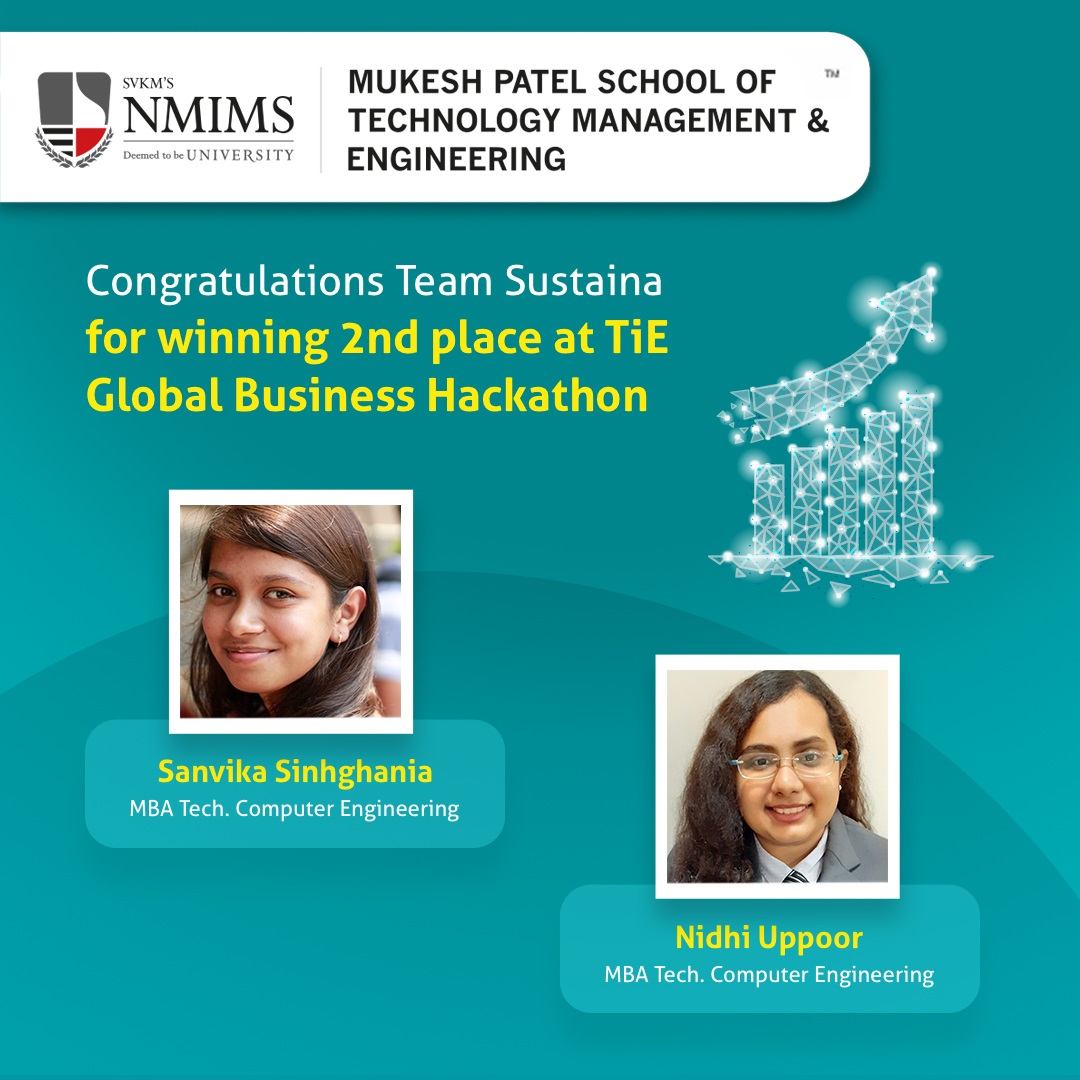 Team Sustaina (Sanvika Singhania and Nidhi Uppoor) won 2nd place at TiE Global Business Hackathon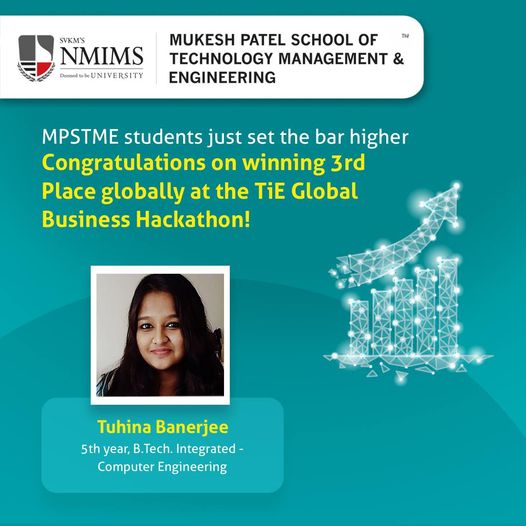 Tuhina Banerjee (B.Tech-Integrated) won 3rd place globally at TiE Global Business Hackathon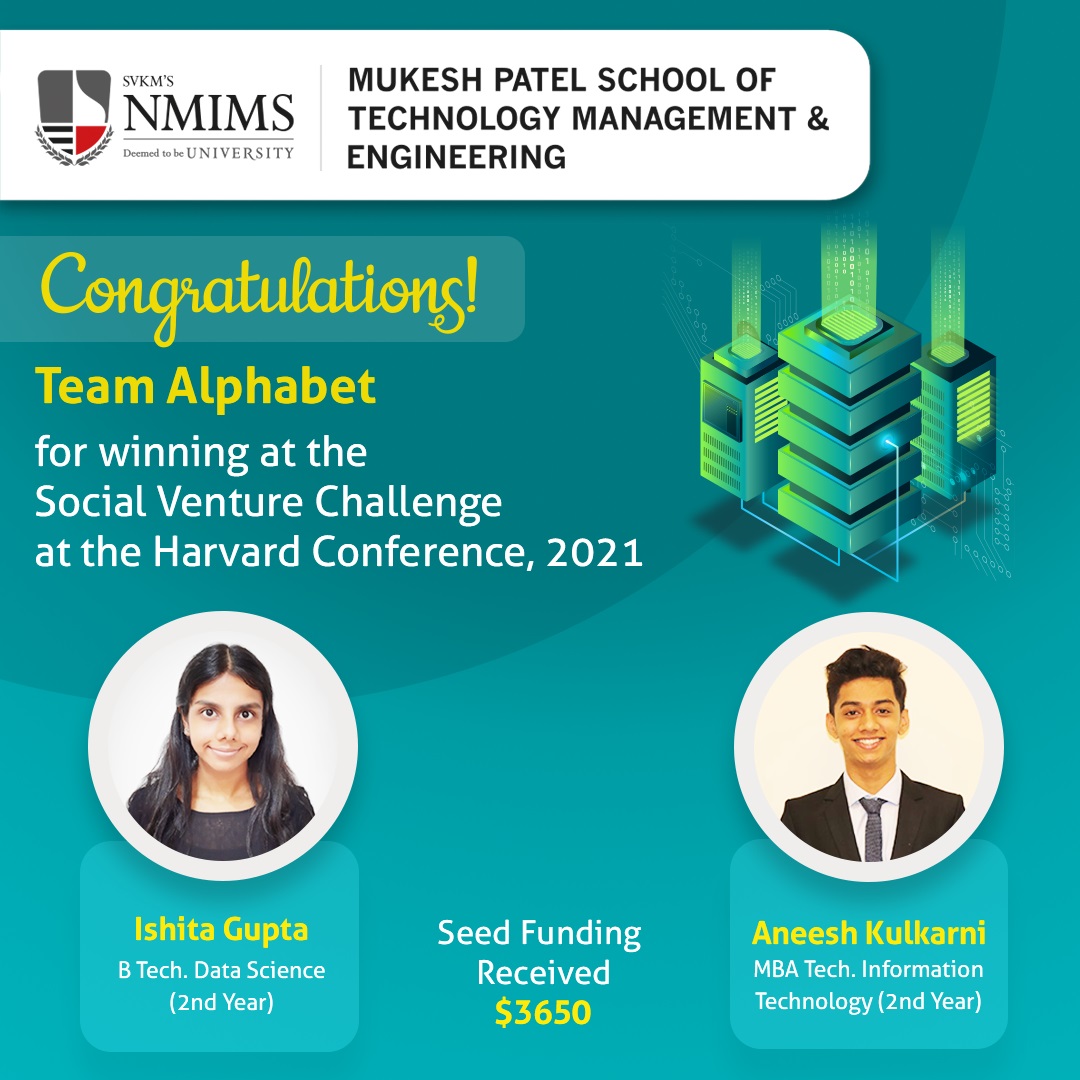 Team Alphabet (Ishita Gupta and Aneesh Kulkarni) Won at Social Venture Challenge at the Harvard Conference 2021 under the mentorship of Dr. Nikhil Gala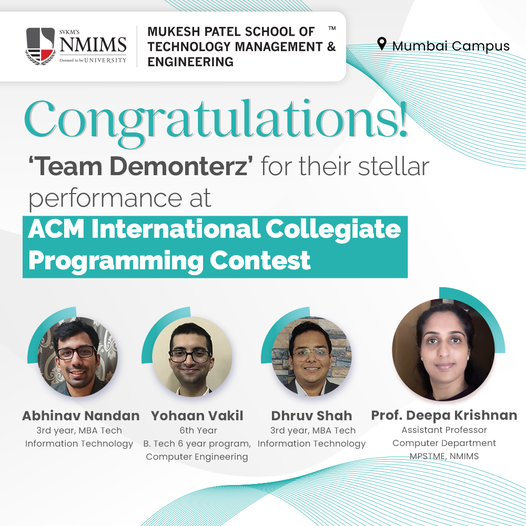 Team Demonterz becomes the first MPSTME team to represent and secure a top 300 finish at the prestigious ACM International Collegiate Programming Contest.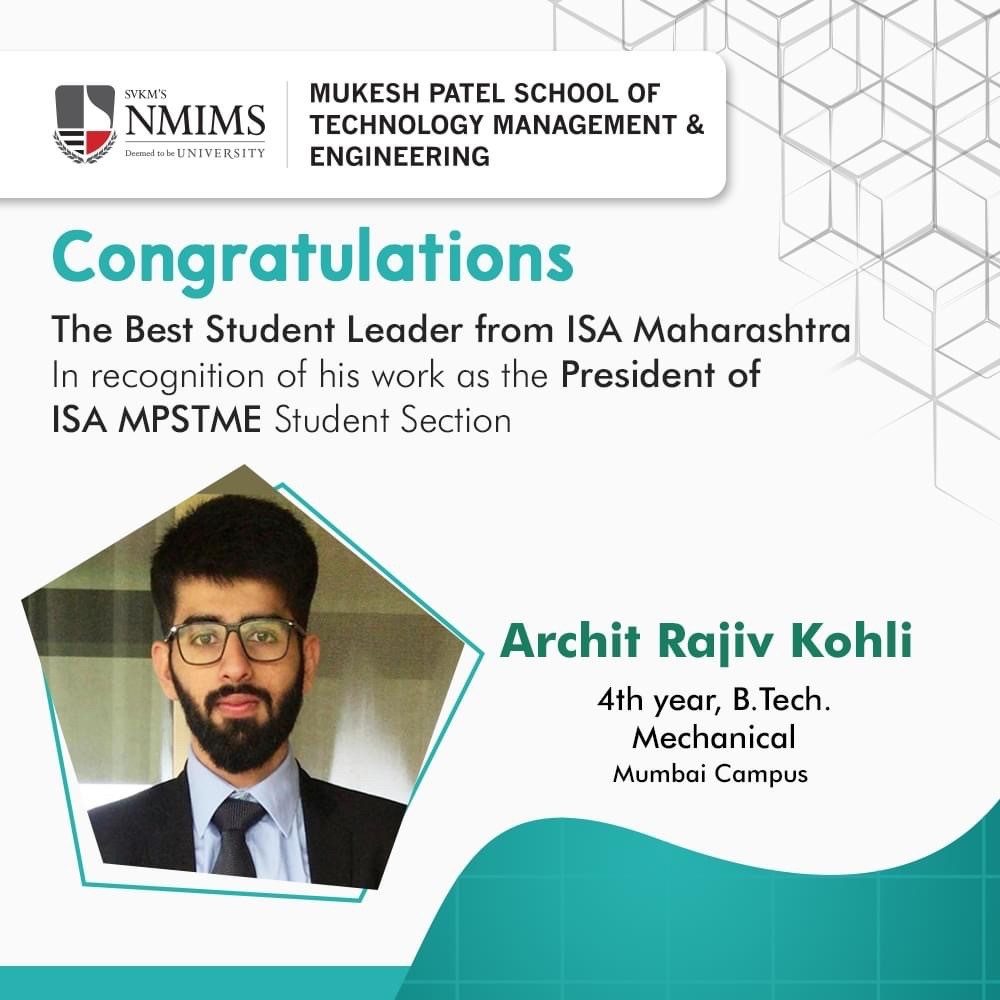 Mr. Archit Rajiv Kohli , Mechanical Engineering Department, 2021 batch has received the " The best student leader" award
...(Read More)
from ISA Maharashtra in recognition to his work as the President of ISA MPSTME student Section under the guidance of Prof. Dattatray Sawant.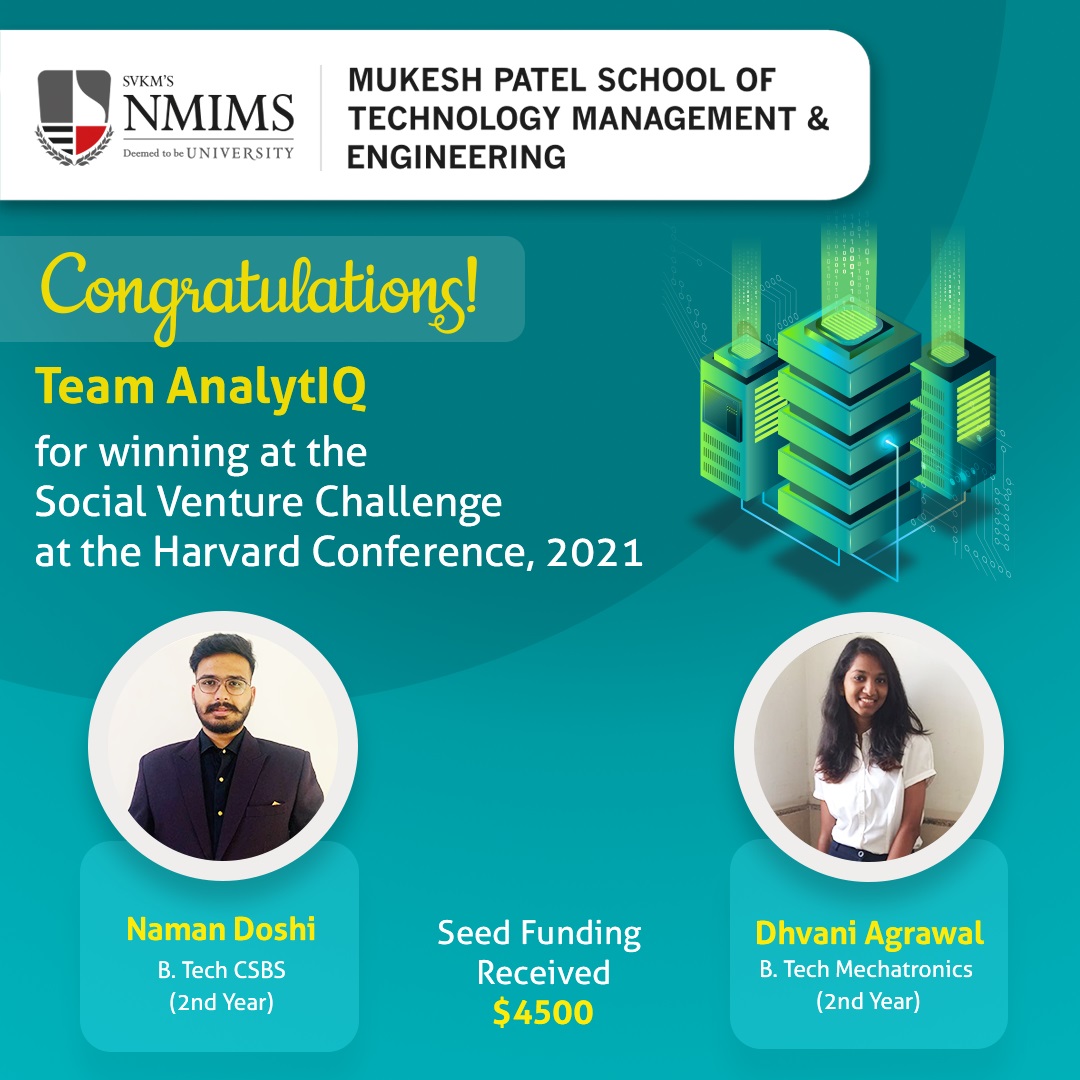 Team AnalytIQ (Naman Doshi and Dhvani Agrawal) Won at Social Venture Challenge at the Harvard Conference 2021 under the mentorship of Dr. Nikhil Gala
Institution of Engineering and Technology MPSTME On Campus wins the Most Creative Social Media 2020-21 for the 2nd quarter among the top 100 global IET On Campus groups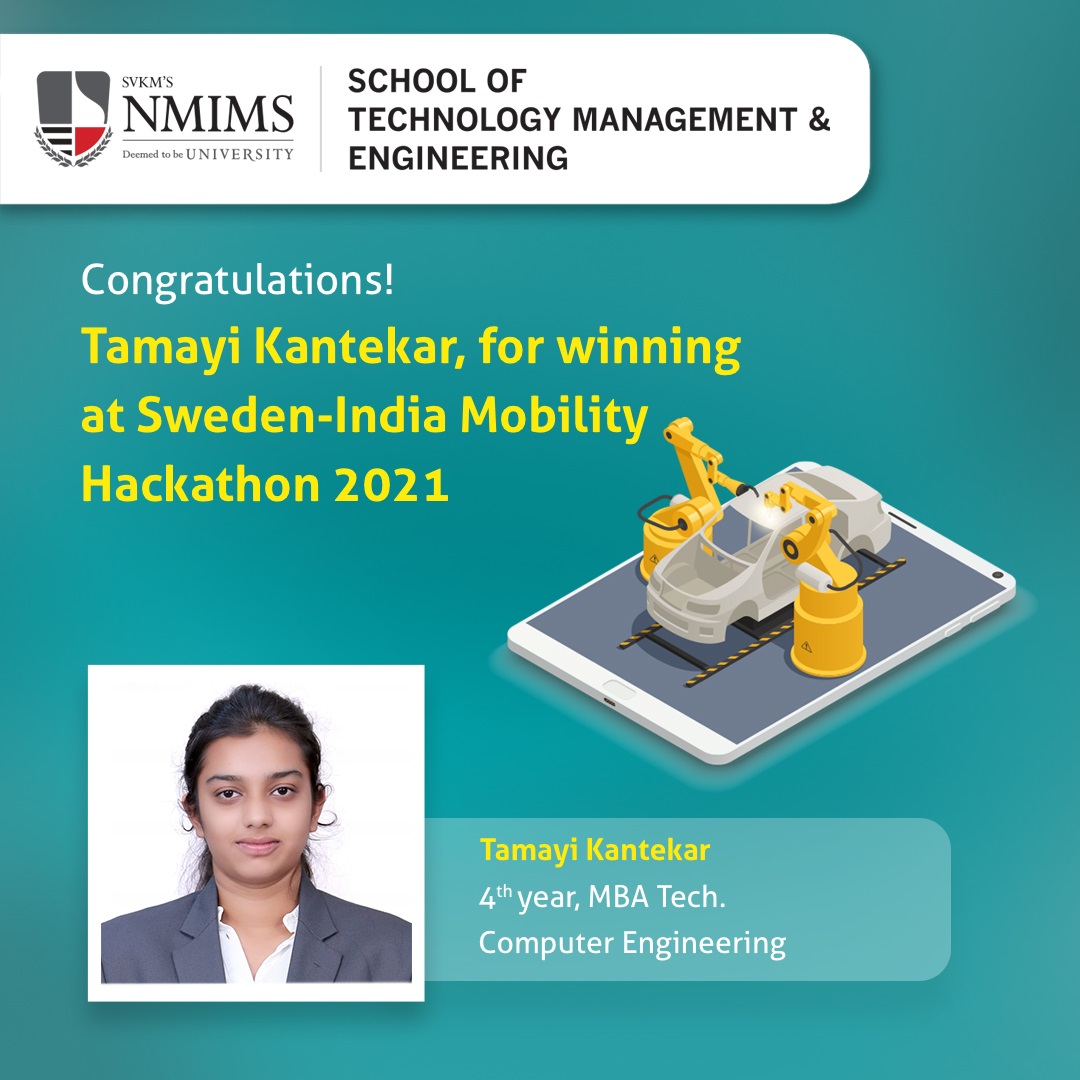 Tamayi Kantekar (MBA Tech. Computer Engineering) won at Sweden-India Mobility Hackathon 2021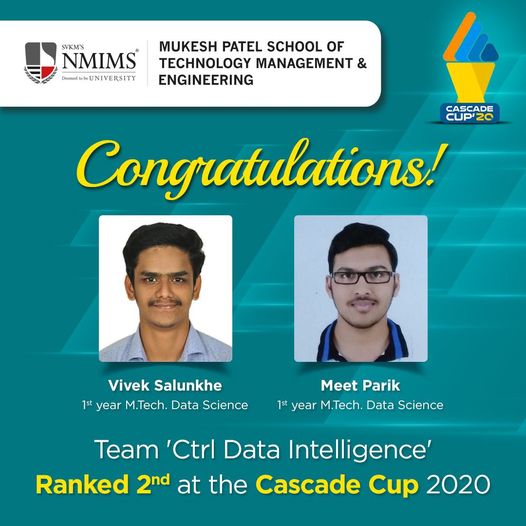 Team "Control Data Intelligence" (Vivek Salunkhe and Meet Parik) ranked 2nd at the cascade cup 2020
Admission Open 2024
B Tech / B Tech + MBA Tech Program
Admission Handout & Important Date
---
Direct Second Year B Tech / MBA Tech
---
B. Tech Integrated Program
---
M.Tech. – Data Science / M.Tech. – Artificial Intelligence
---
Master of Computer Application (MCA)
---
Admission Handout 2023
---
News
---
Glimpse of IEEE Bombay IBSSC 2022 Conference - Industry sponsor Quantiphi
---
311 Co-ordinated Program Presentation
---
MoU has been signed between MPSTME, NMIMS University and Hindu Hridaysamrat Balasaheb Thackeray Medical College and Dr. R. N. Cooper Municipal General Hospital for the Collaborative/Interdisciplinary research purpose
---
"MPSTME is ranked 5th in the category of D2C Competitive E-Schools 2021 under Dare2Compete Awards 2021"
---
MPSTME's B.Tech. programs receive prestigious ABET Accreditation, USA-"The Global Gold Standard for Quality Assurance in Technical Education"
---
NMIMS-Virginia Tech launches a unique 311 Coordinated Programme B.Tech Computer Science (option Data Science) with an opportunity to pursue BS & MS degrees from Virginia Tech, USA
---
NMIMS-MPSTME now accepts SAT/ACT scores for MBA Tech. and B.Tech Programme
---
MPSTME launches B.Tech programme in Artificial Intelligence and Cyber Security
---

NMIMS has signed MoU with Virginia Tech., the USA based public research university on 18th February, 2019 in Mumbai. This collaboration is for M. Tech. Data Science programme, an offering which is specifically designed keeping in mind the evolving trends pertaining to the field of Data Science
---
...More Events @ MPSTME